Hey guys how's everything going on. I was not able to post anything new as I have been busy with Empower Network lately. Today I'm back and in this post I'm going to talk about Quora and how you can use it for search engine optimization. Lets first start from the basic question…
What's Quora?
Quora is an online question and answer community similar to Yahoo! Answers and Answers.com. The main difference between Quora and these sites is that Quora has a community of professionals and experts in different niches who answer to your questions which differs from the general people who answer in the other Q&A sites.
You can find experts in almost every niche from current (and former) Google engineers to well-known entrepreneurs, angel investors, and venture capitalists. Well in this post I'm not going to dig deeper into explaining Quora. You can know more about it here.
Using Quora For Search Engine Optimization

This blog is just about two and a half months old and we both know that it's very difficult for any new blog to stand out in the crowd and start driving a lot of traffic. Quora in this case has helped me a lot in driving fresh traffic to my blog as well as building links.
In Quora people post questions in different niches, or what they call it as topics. You can post an answer to the questions that you know about and post a link back to a post on your blog which may be  related to the question asked. Take a look at the following as an example.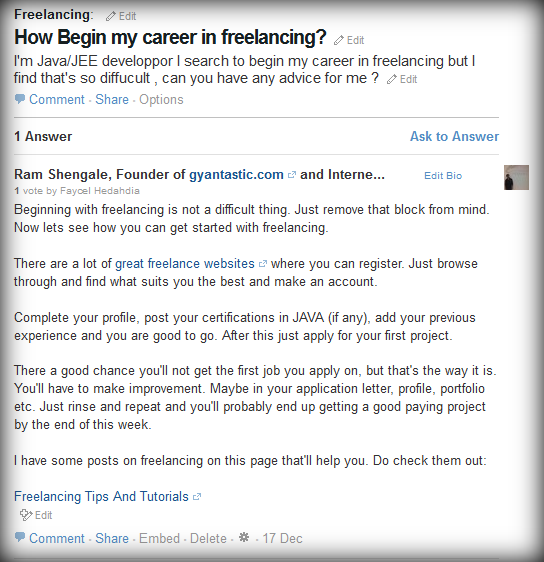 When answering just make sure that you write a good and in-depth answer before putting a link back to your blog. Users at Quora are intelligent enough to know if you really wanted to answer their question or just wanted to promote your blog. Such answers get voted down and no will want to follow a link like that.
How Quora Helps In SEO
1. Increases Visibility of Your Blog
It helps in increasing the visibility of your blog. As Quora is a PR7 website, its pages get indexed faster by search engines and hence get to the top of SERPs quickly. Imagine if the question you answered gets in #1 position in the SERPs for a high traffic keyword, you know hat follows next. That high traffic flowing through Quora to your blog from the link you posted!
2. Build Links With Your Preferred Anchor Text
When you post a link on Quora, it automatically detects the title of the link and uses it as the anchor for that link. You can easily edit this anchor text and change it to your preferred keyword. A link from a PageRank 7 website with your keyword anchored to it helps you with SEO and lets the search engines do something good for you and your blog.
One more way you can build links back to your site is by putting a link of your blog or website in the bio. This bio gets displayed besides your name every time you answer. This helps particularly when you don't have any link to post in at your answer. By just answering the question you can build a link back to your blog (from bio).
How To Know About New Questions?
It's important to know whenever a new question gets posted at Quora. You can't just sit and wait on the site all day for the questions to pop out. The best way to know about new questions is by following different topics. Search and start following different topics related to your niche. When you follow a topic you get notified by email whenever someone posts a question. Follow as many topics as you can so that you can answer more questions and hence build more links.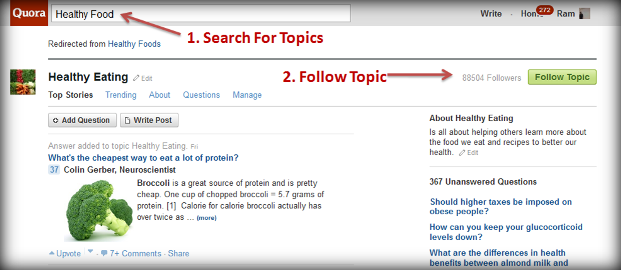 Although the links from Quora are nofollow links, you can still build a good nofollow link profile using it. Just make sure you answer at least two questions daily – won't take you more than 15 minutes – and you are good to go. Not only you'll get new visitors to your site but it will also help you with search engine optimization.
Quora now brings me about 10-15 new visitors per day with just 25-30 questions answered by far. I'm a bit lazy in answering questions now a days (you can see the number of notifications in the image above). But with this post I've decided to get back on track and start answering more questions.
Use this strategy and see how it works for you.
What do you think about this strategy of link building and SEO? Leave a comment below to share your thoughts.