WordPress is the world's most popular CMS platform with market share of over 38% as of today. It's a great tool build an easy to use websites for pretty much all sorts of online businesses, be it a general marketing website, an eCommerce store or even a web app.
With it's popularity, you also get a ver large range of pre-built themes, that you can pick off the shelf and use for your website. But it you want go custom and create a design that's unique to your brand, getting your site built using one of the prototyping tools like Adobe XD, Figma or Sketch is the way to go.
If you're reading this, probably you already have your designs made using one of the above mentioned tools and are now looking to get those converted to a functional WordPress website.
If you do not have any prior experience on how to convert Adobe XD to WordPress, Figma to WordPress or Sketch to WordPress, don't worry, there are a lot of companies and agencies offering these WordPress conversion services.
Some of these service providers work exclusively on design prototype to WordPress conversion services, others are general WordPress agencies that provide this as one of their services and yet there are marketplace sites where you can hire a WordPress developer to do this for you.
In this article, I have share the 5 best Adobe XD, Figma and Sketch to WordPress conversion service providers.
Adobe XD, Figma and Sketch To WordPress Service Providers 
The WordPress conversion services listed below are hand-picked by me and backed by my personal experience working on such projects. You can pick one that suits your budgets and requirements the most. Here you go…
Fantastech is one the most popular and sought after service providers in this list. They specialize in design to code conversion and work exclusively on design to HTML and WordPress conversion projects.
They have been working as a WordPress agency since 2012 and till date have worked on over 1400 WordPress projects till the date of this writing.

They follow a simple process for helping you get your designs converted to WordPress. You start with sending them the designs in any of the formats including Adobe XD, Sketch, PSD or even HTML with a brief write-up about your project. They also provide Figma to WordPress conversion service.
They then go through your designs and the requirements and get back to you with a quick, free quote. If the quote fits your budget, they send you official proposal for it so that you can get started.
As soon as you make the advance payment, they start their development process by hand-coding your WordPress website for you.
The best thing is, as they have specialization in this, you can ask them to build your website either from scratch using themes like Underscore or get the sites built using popular themes like Astra, Divi etc and page builders like Beaver Builder, Divi and Elementor.
Their pricing is also affordable for most businesses, so you can get your WordPress website built, without paying a lot of money for it.
ReliablePSD should definitely be the second best service provider on our list when it comes to conversion of designs to WordPress website. They've also been in the market for quite long and if you're looking for a premium service provider, they're the way to go.
They provide almost all the services provided by Fantastech but their pricing is at a premium level. That's mainly because they're a US based company and Fantastech is an India based company.

If you're from US and prefer to work with a US company, then they're definitely the way to go. Their pricing starts at $50/hr but you can expect extremely high attention to detail and high quality code from them.
Well no list of this sort would ever be complete without mentioning Upwork in it. Upwork is the world's largest marketplace for finding freelancers and agencies for pretty much all tasks you can do over the Internet.
It has a large pool of highly experienced WordPress developers that offer various WordPress development services including prototype to WordPress conversion.

There you can find developers with a wide range of experience and at a wide range of prices. No matter what your budget or expectations are, there'll be a bunch of developers to fit your criteria.
The only downside of going on Upwork is that it might overwhelm you with the number of responses you get for your project and it becomes very difficult to choose from the best WordPress developers. But if you like choices and only want to spend your money with a developer you're fully comfortable is, Upwork is definitely the way to go.
Envato Studio's marketplace is similar to Upwork but they're mainly focused on providing services for designers and developers. On their platform they offer different kinds of services including logo design, branding, graphic design, website design, website and mobile app development and a lot more.
It's mainly a gig platform where you'll find a lot of gig from developers who offer conversion of XD, Sketch, Figma, PSD and HTML to WordPress as fixed price services.

As each gig mentions the the price, past work history and other details, it becomes very easy to shortlist candidates that match your budget exactly.
You can even filter gigs according to turnaround time and location of the freelancer, which is great for finding right talent for your project.
The whole communication with the developers happen on the platform so you can be sure about the professional behaviour and timely responses from your freelancers.
Similar to Upwork and Envato Studio, Fiverr is also a marketplace where you can find developers, designers, and pretty much all other kinds of service providers.
It's similar to Envato Studio in sense that it's also a gig based marketplace where you'll find the developers who post their gig for various job they have to offer.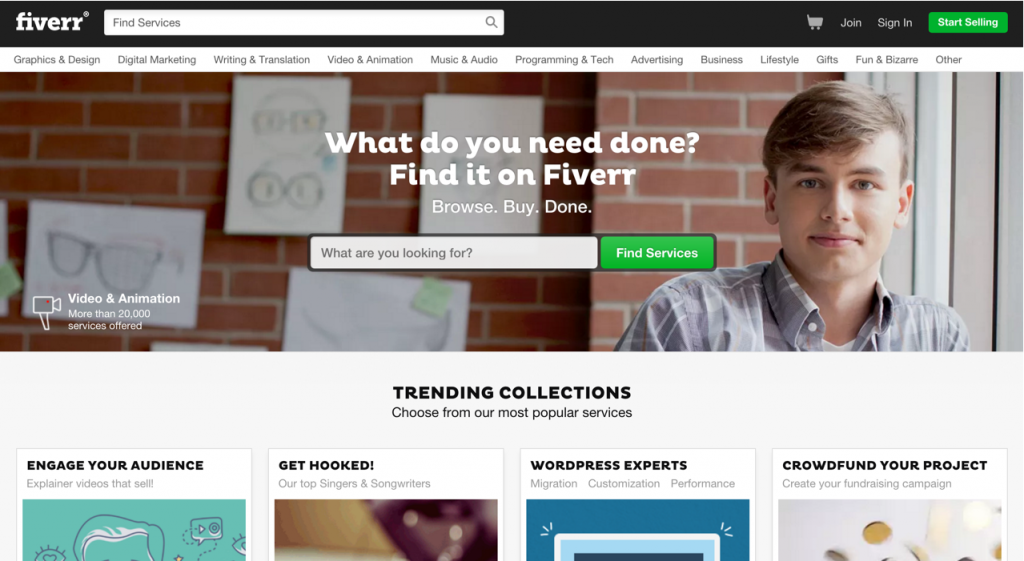 You can find hundreds of freelancers offering design to WordPress conversion services and their costs are basically the lowest in the industry. But with low cost there also comes the risk of low quality work so you need to be very careful while buying a gig.
Make sure to only go with the provider with a good work history and lots of 5 star reviews so that you don't end up loosing money and getting a low quality website delivered.
Conclusion
To be frank, these are just a few of the thousands of design prototype to WordPress conversion providers you can find online who can help you convert your designs in Adobe XD to WordPress, Figma to WordPress or Sketch to WordPress.
But to keep it easier for you I drilled it down to only these 5 so that you do not have to waste time researching and finally get your designs converted to WordPress without drowning in the list of providers.
And do let me know your experience in the comment section below after you've worked with any of these. Or if you have any suggestions, feel free to share them.