4 Simple Ways To Find Authority Guest Blogging Sites In Your Niche
This is the fifth post of the guest blogging post series.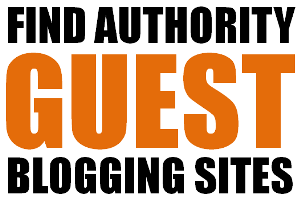 It's important to find authority guest blogging sites in your niche so that you get maximum results for the time and energy you put into guest blogging.
Now these results include getting a lot of traffic to your site, improving its rankings over the search engines and gaining credibility for your brand.
Authority Guest Blogging Sites
The authority guest blogging sites are the sites which have high PageRank, low Alexa ranking and a large audience. These sites allow you to get the most effective backlinks that not only assist your website to get higher rankings, but helps in redirecting good amount of traffic too.
So before anything else, it is very important to find such authority guest blogging sites in your niche that would help you to get better returns in every possible manner.
Following are some of the ways to find guest blogging sites:
1. Try Searching Over Google With Right Keywords
The easiest way to find authority guest blogging sites is to search on Google. All you have to do is type-in the correct keywords. You can choose to go with the following keywords in order to get the most directed results:
List of high PR guest blogging sites.
List of Authority guest blogging sites.
Best guest blogging sites.
High PR guest blogging sites.
Besides these, you can also type other related keywords like the follow to get the most relevant results.
your

keyword "submit a guest post"

your

keyword "submit your post"

your

keyword "accepting guest posts"

your

keyword "guest post"

your

keyword "guest post guidelines"
 2. Check Out Different Guest Blogging Forums And Networks

You can find a good number of guest blogging forums where you can find high PR and authority guest blogging sites. You might need to open a new thread in order to get the list of guest blogging sites in your niche or you might already find a thread with a list of sites.
Similarly there are guest blogging networks that allow you to find guest blogging sites in various niches. They can be both paid and free depending on the number of sites you can browse through. Side note: I'll recommend you invest money only if you have a proper strategy in place for guest blogging.
Some of the most popular guest blogging forums and networks:
3. Check Out Social Networks
You can also find guest blogging opportunities using social networks. There are two ways that I use social networks to find guest blogging sites:
There are groups on Facebook that specifically made for guest blogging. Some of these are: Guest blogging – Get Guest Posts & Find Guest Bloggers and Guest Blogging Portal.
People who guest post generally share their posts on social networks. So you can search for the keywords "guest post" or "guest blog" to find guest blogging sites. This works especially on Twitter.
4. Take Help From Pro Guest Bloggers
There are pro guest bloggers in every niche that guest post on some of the best blogs out there. So you can take help from them and save yourself a lot of time finding an authority guest blogging site yourself.
Just search over Google for the keyword "guest post by" Pro Blogger's Name and you'll get the links to all the posts written by them on different blogs.
You'll have two benefits of finding guest blogging sites this way – first, you'll know all the experts in your niche that you can build relationship with and second, the blogs that you find will only be high authority blogs (as pro guest bloggers will choose only high authority blogs).
You can choose to go with any of the above ways to find the best and the most authority guest blogging sites that best fits your needs.
Other posts of this series: