If you somehow stumbled upon to this post it is a part of post series WordPress 101 – Beginners Guide To WordPress

So now you know what WordPress is and want to have your own WordPress blog. If you want to setup your own blog using WordPress then this post will walk you through the process. By the end of this post you would have successfully installed WordPress on your web host and will be proud of yourself that you gave birth to brand new blog.
Don't be afraid of the process, it is very easy to follow. You don't need to know HTML, PHP etc to complete the setup. Of course if you know about them it will be helpful in a long term but there is no compulsion. Also if you have ever installed a program on your computer and know how to upload files to your web server then you are good to go. So without wasting any time lets jump down and start with the step-by-step process.
Things required before installing WordPress
Domain Name
Web Hosting Plan
FTP  Manager – I recommend Filezilla
Setting Up WordPress On A Web Host
Downloading The Source Files
Download the WordPress installation files from http://wordpress.org. The downloaded file will be a .zip file.
Uploading File To Server
Now log into your ftp server and upload and unzip the files there. Now it depends upon you where you want your WordPress blog to be. For example if you want the blog to be in http://yourblog.com/ then unzip the files in the root directory of your ftp server. Instead of this if you want the blog to situated in http://yoursite.com/blog/ then make a folder in your root directory named 'blog' and unzip the files inside this folder. Once you have uploaded your files to ftp it will look like following:

Configuring WordPress Before Installation
Once you have uploaded the files you now have to do some configuration before you can install WordPress. Open /wp-admin/setup-config.php in your browser by visiting http://yourblog.com/wp-admin/setup-config.php to start the configuration process (here 'yourblog.com' gets replaced by your domain name). You will see the following screen: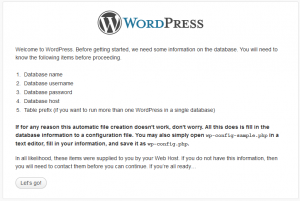 Configuration process involves creation of new database for your wordpress installation. Create a database named wordpress(or anything you like) using phpMyAdmin. If you don't know how to do this ask your web host support team to create one for you. You will also need following three things before you go to next step. Contact your web host provider or read the email you would have received after buying the web hosting for these details.
Database Name (in this case wordpress)
Username
Password and
Database Host of MySQL
Once you have these details click on Let's go! On the following page fill the database name with anything you like or keep it as it is. Also fill the Username, Password and Database Hosts with the details you got and leave the Table Prefix as it is.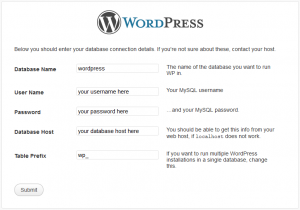 Click on submit and filling the details to complete the configuration. If everything goes well you'll see the following screen:

Now click on Run the install to start installation.
Installing WordPress
You will now be sent to install.php page. Fill the site title, username, password and your email address. The username and password is required to log into the back-end of your WordPress blog to make changes, post blog entries and modify the look and feel of your blog. Keep this information handy as you'll always need it when you plan to blog about something new.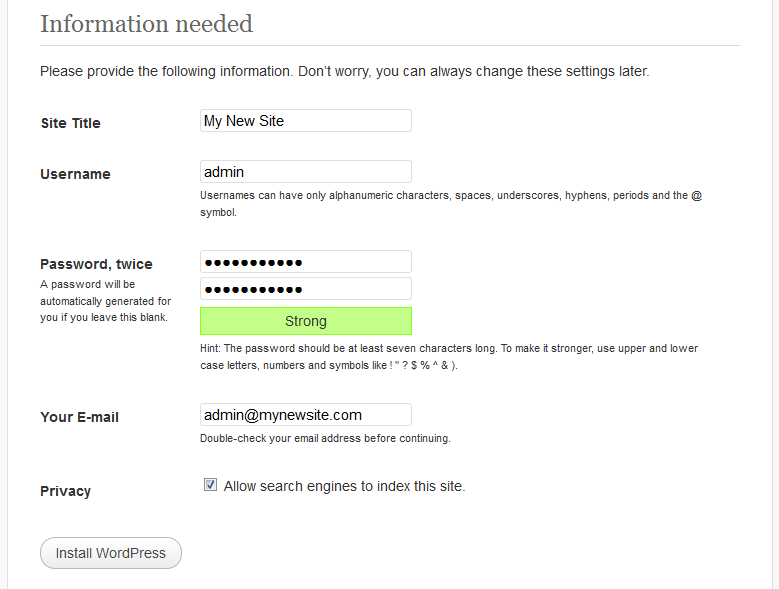 Click on Install WordPress and you're done! Congrats you just gave birth to your first blog! Now you can log into your blog and start posting your thoughts.
In the next post I'll have a quick walk-through of writing your first blog post and viewing it. Till then take care and if you have any query don't hesitate to leave a comment.
Other posts under the post series WordPress 101: