This blog post is a part of SEO: Newbie's Guide To Search Engine Optimization – a 3 post series on SEO. You are currently reading the second post of the series. In the first post I gave a brief introduction to SEO, talked about how search engines work and different forms of SEO. In the third and last post I'll be talking about off-page SEO and link building.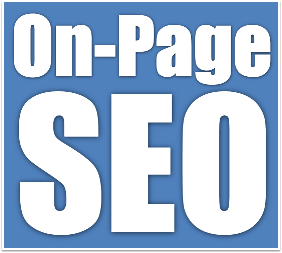 On-page optimization is a process of optimizing the content of your web page in order to rank it higher in search engine results. In my last post you learned about the basics of SEO and in this post I've discussed the different elements of on-page optimization and the ways of doing on-page SEO for your WordPress site.
Quick tip: This post is quite long (2500+ words) so I'd recommend you to grab a drink and stay glued to your seat. Just make sure you keep your mind open as SEO is not as difficult as you may be thinking.
Here we go…
When it comes to on-page SEO of a web page everything boils down to one thing – keywords. Keywords are the terms that people search for using search engines and these are the terms for which a web page ranks for in the search results.
Say you have a web page http://yourdomain.com/xyz-reviews/ that you want to show in search results when someone searches for the term "xyz reviews", then you'll have to optimize that page for the keyword "xyz reviews" in order to get to the top of search results and here's where on-page SEO comes into action.
The better you can optimize the content of your web page, the better are the chances of it to rank well.
Keyword Research
Keyword research means to find out what keyword would suit the website/blog to be recognized over the internet. This means that if you have a blog that tells about tips to prevent hair fall, then the keywords can be "anti hair fall tips", "keep hair fall away", "how to prevent hair fall" etc. These are the words which people would search for over the internet and these are the keywords for which you should write content on.
Make sure you find more and more keywords related to your website's niche, create a page for each of them and optimize each page for search engines. By doing a good on-page optimization for each page on your blog, you can have your blog ranked higher on a search engine result for each specific keyword.
There are a lot of free and paid tools present out there. You can access them from my resources page here.
 
Generally, getting about 1000+ organic searches a day is a good bet for a highly searched keyword. So find the terms with high volume of searches and low competition and you are good to go with keyword research. Pat Flynn of SmartPassiveIncome.com has done a great webinar on keyword research that you definitely check out.
What To Do After You've Found Right Keywods?
1. Create pages for individual keywords – Write quality content that helps people solve their problems.
2. Do on-page SEO for each keyword – Optimize the content of your web page for that keyword.
I'll be focusing on 2nd part in this post.
Keywords can be used anywhere in the content but that does not ensure that traffic will be rushing down your blog as a result. There are some rules of thumb for placing keywords rather than just sprinkling them over the blog content.
Following are the different parts of a web page that should be optimized. I have also included examples for WordPress user to optimize their blogs for each of these parts easily. For a lot of things I have used a plugin: WordPress SEO by Yoast that I personally use on my every WordPress blog for on-page SEO. So before I proceed I'll recommend you to install a copy of it on your blog too.
How To Do On-Page SEO Of Your Web Page In Under 30 Minutes
On-Page SEO Step #1 – Keyword Optimization Of Title, Meta Description And URL
The most basic step of on-page SEO is keyword optimization of a web page. Keyword optimization is the process of spreading your keyword in a web page that is in the page title, meta description, URL and the content of the web page. It's a way of telling search engines that that page is focused on that particular keyword and it should rank it in search results when someone searches for the same.
When you search for a keyword "on-page SEO" in Google, you can see a lot of results which look similar to the image shown below:

The search result consists of three parts: Title, URL and Meta Description. As you can see that all three of them contain the keyword "on-page SEO" (in bold) which is a good sign of on-page SEO. It helps the search engines know that the page contains information about "on-page SEO" and it should rank the page in search results if someone searches for that keyword.
This also helps the person searching for the keyword as he/she can see a lot of bold words and can figure out that the result may contain the information that he/she has been looking for. So how to optimize the title, meta description, URL and the content of the web page with your keyword?
1. Optimizing The <title> Tag
Title <title> of a web page is the text that gets displayed in the search engine results. This is the first thing a person sees when he searches for a keyword. Titles make any content more readable and shelve the relevant information together. Put your keyword in the title of your web page at least once and try to keep it as close to the beginning of the title tag as possible.
The title speaks first, and catchy tiles ensure that readers of your blogs would be interested to read more. Using keywords in tiles is important as they show relevancy with the content matter and also they are healthy for search engine optimization.
The number of characters in the title should be anything less that 70 characters. This is important as the search engines only show up to 70 characters in the search results. So its best to keep the title short in order for the search engines to show the complete title. And I think it makes complete sense to keep the title short as it
The HTML of this web page looks like:
<html>
    <head>
        <title>How To Do On-Page SEO And On-Page SEO Tips For WordPress</title>
    </head>
    <body>
        .....................
    </body>
 </html>
2. Optimizing The Meta Description

Meta description <meta name="description" … /> is an html tag that helps giving a short description to a web page. This description is shown in the search engine results and helps the readers in finding what's inside and save their time of rather reading the entire content for that purpose. The number of characters shown in the search results is 160 characters. So try to keep the character count 160 or less so that your summary can completely describe what's inside.
Put about one to two keywords in the meta description, preferably at the beginning.
The meta description of this web page looks like this:
<html>
<head>
<title>How To Do On-Page SEO And On-Page SEO Tips For WordPress</title>
<meta name="description" content="On-page SEO is a process of optimizing the content of your web page in order to rank it higher in search engine results. When it comes to on-page SEO of..." />
</head>
<body>
.....................
</body>
</html>
Editing Title And Meta Description In WordPress Using WordPress SEO Plugin:
If you have a WordPress blog/website I recommend you to install WordPress SEO by Yoast. It helps you in setting your title and all other parameters very easily. After you install the plugin, following gets displayed below the add post or add page area.  Here's a quick look at how it looks: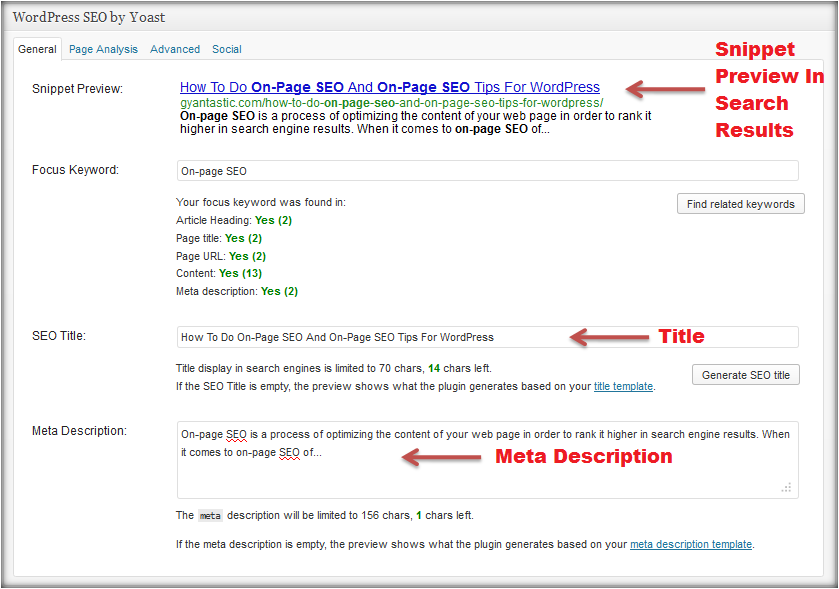 Put your title in the SEO title area and the summary in the Meta Description area with your keywords in them. The snippet preview shows how your page/post will look in the search result – great way of doing on-page SEO easily and quickly. The Focus Keyword helps you to check if the page is optimized for your keyword or not.
It also shows the different areas of content and the number of keywords present in them. Just make sure you keep everything green and your page is on-page optimized. It's as easy as that!
3. Optimizing The URLs:
Put your keyword in the URL of your web page. It's best to use static URLs instead of dynamic URLs with your keyword in it. Static URLs are easy to understand and conveys the content information easily.
Also the URL to a web page is displayed in the search result, below the title and description. Like the title and description, the words in the URL in the search result appear in bold if they appear in the user's searched keyword.
Search engines crawl all types of URL structures – both dynamic or static, but making URLs as simple as possible is good for both users and search engines. It's good for the search engines as the URLs containing your keyword can tell the search engines about the page, giving your on-page SEO more power. And on the other hand short and static URLs are easy to remember and share for the end users.
Dynamic URL – http://yourdomain.com?p=2345

Static URL – http://yourdomain.com/the-keyword/
Just make sure you keep the URL as short and descriptive as possible. When your keyword contains more that one word the best practice is to separate them using hyphens (-). This also makes your URL more search engine friendly and easy to remember.
For WordPress Users: There is a quick way of changing the permalink structure of the URLs of your web page. The default permalink structure in WordPress is http://yourdomain.com?p=<postid> which is not SEO friendly. You can easily convert this to http://yourdomain.com/post-name/ so that whenever you write a post/page you have the power of using a static URL with your keyword. Just go to Settings > Permalinks and save the settings as follows: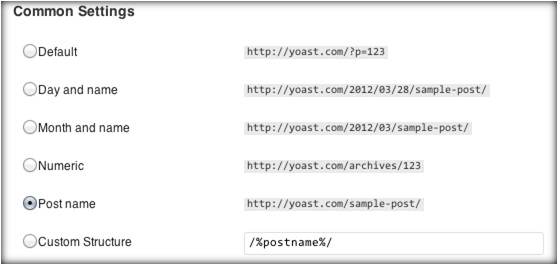 After you've done this setting you can edit the URL of your post/page by the option given under the title area of your post:

On-Page SEO Step #2 – Keyword Optimization Of The Page Content
The page content also needs to be optimized with the keyword. Now the content of a webpage may include the headers, the text content and images and all these components need to be optimized with your keyword.
1. Using Keywords in Heading Tags:
Heading tags include <h1>, <h2>, <h3> and so on. For search engines, it makes a lot difference when you use a keyword in the headers, it emphasizes the fact that you will be relating to the subject matter there. This increases the effect of usage of those keywords. The h1 tags are often referred to as the initial headers, but you can use h2, h3 and more if you want to make extra headers.
Headers not only make your content more readable it also helps in on-page SEO when keywords are used properly in them.
2. Using Keywords in the Content:
Your blog may contain the best written content ever, but it won't rank well in the search engines if not optimized properly. Try to spread your keyword to your content, preferably in the first and the last sentences. What this does is it makes the search engine understand that the entire content revolves around the given keyword. If it is relevancy a search engine seeks, this is what you should give it.
By selecting the keywords wisely and then using them across your content, you can make a high ranked blog over search engines. Just keep in mind not to stuff your keyword in the content and make it unreadable. Always keep quality as your first priority.
3.
In

Alt

Attribute In Images:

Alt attribute in an image is used to provide an alternate name to the image. You should also have your keyword in the alt attributes of your images in the content. This not only helps with web search, but also image search, which can occasionally bring valuable traffic.
Keyword Density:
Now this is probably the most important thing you should take care of. Keyword density is the number of keywords present in a web page. Preferable keyword density is about 3-4%. That is about 10-12 keywords in a page with about 400 words which include keywords in title, meta description, headings, content and images. There's a very short range of usable keyword density as under and over optimization can make you penalized and not result in better rankings.
You can have the density lesser than 3-4% but try not to exceed 6-7% as it won't do any good to you and is a bad on-page SEO practice.
On-Page SEO Step #3 –
Other

Simple On-Page SEO Factors
1. Have A Sitemap:

Make a sitemap for your website and submit it to search engines using their webmaster (like Google Webmaster Tools and Bing Webmaster Tools). This helps search engines know about the pages and structure of your blog and help them to easily crawl through your website. It can also be helpful for your visitors to browse through your website/blog.
A sitemap can be generated by using free tools like http://www.xml-sitemaps.com/ or using the plugin WordPress SEO by Yoast (it is an extra feature of this plugin).
2. Have a useful 404 Error Page:
People may come to a page on your website following a broken link or typing in the wrong URL that doesn't exist. Having a usable 404 error page can guide them to the working pages like your home page or maybe your most popular content pages.
3. Using Robots

.

txt

:
Robots.txt is a file that is used to restrict search engines to crawl unwanted pages on your website. These are the pages that are not useful for your users. The robots.txt file is placed in the root of the website : http://yourwebsite.com/robots.txt. A typical robots.txt file would look like the following:
User-agent: *
Disallow: /images/
Disallow: /search
Not all search engines follow robots.txt but most of them do.
4. Use rel="

nofollow

" For External Links:
Using the rel="nofollow" attribute in your external links helps in telling Google and similar search engines that certain links on your site shouldn't be followed or pass your page's reputation to the pages linked to.
There can be links on your website that point to some other websites like the links in your comment area that you don't want to pass your PageRank to, so you can nofolow these links to stop comment spam. This also applies when you are linking to a website with lower PageRank.
Example: You can use rel="nofollow" as <a href="http://www.spammymoms.com" rel="nofollow">Spammy Moms</a> to stop the flow of your reputation to http://www.spammymoms.com.
 5. Do Proper Internal Linking:
Link internal pages of your website properly. Try to structure your website in a way that all the pages of your website are accessible using links. Use proper anchor text for your links that describe your pages properly.
Conclusion
There are infinite other things you can do other than these, but getting these basics above will have the biggest payoff. Just follow these guidelines and you are good to go with on-page SEO and your way to the top of search engine results.
Please leave a comment below to share your thoughts about this post.