This post is from the post series Blogging 101 – The Only Guide You'll Need To Get Started With Blogging.
Choosing a profitable niche topic in 4 easy steps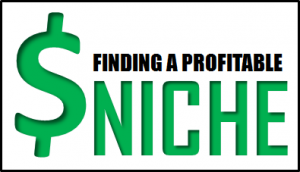 There are a lot of problems in the world. When you, as an individual, find a specific one and try to solve it, we call that a niche market.  However, so many niche markets are saturated and dominated by big-budget websites. How do you stand out?
Your best bet is to find niches that have less competition and penetrate them using low competition, long tail keywords. These four tips will help you with that search.
1. Choose a niche topic that you are interested about
Many people choose a niche just because they think there is a lot of money to be made. They don't think about whether they are interested in the topic or not. Consequently, they often work really hard to set up a blog full of content, only to lose interest and give up on their site.
The rule of the game is that, the more energy you put into something, the more results you get out of it. When you are interested in a topic, you are more likely to read, research, and know more about the topic. As a result, you'll become an expert in your niche, which means you will write more and are more likely to be recognized by others.
2. Check the competition
Competition can be a good sign that a niche can be profitable. Nobody would be competing if there wasn't money to be made. However in some niches, there is just too much competition. It is usually harder to penetrate a niche that is saturated with big authority sites that are too strong to compete with.
When you are just starting out, you are better off choosing a less competitive niche. Check the number of competing pages for keywords in your niche and see if there are a lot of sites with a lot of pages, back links and high PR (page rank). A good starting point is to look for keywords that have less than 50,000 competing pages, when you search for the keyword in "quotes." Also, check if the keywords have 1,000 or more searches per month. Otherwise, you won't get enough traffic.
If you find quite a number of keywords like these, it's going to be fairly easy for you penetrate the niche and generate a substantial amount of traffic.
You can use Market Samurai to help you find low competition keywords easily.
3.  How urgent is the problem?
Are a lot of people thinking or talking about it multiple times and day and asking a lot of questions?  And, is the niche evergreen? Are there people who are always looking for solutions and information about the issue. For example, if you create a blog about a music concert, there will no longer be enough people looking for information about the concert once the event passes.
4. Check your resources
Some top marketers suggest that you check "For Dummies" or other magazine publications to take an indication if the niche is profitable.  As they suggest, top magazine companies do extensive researches before issuing a publication to determine if a topic has demand or not.  So if you find a "For Dummies" guide or magazine published about a topic in your niche, you can rest assured that the niche has high profit potentials.   Look up at: http://www.dummies.com or http://www.magazines.com
Chances are, if you can answer these questions, you are well on your way on a successful foray into blogging―one that will provide profits for you and information for your readers. Remember, your time and your passion are the biggest advantage you have over those big companies, by putting in the time and research now, you will be amazed at what you can achieve.
Other posts from Blogging 101 series: