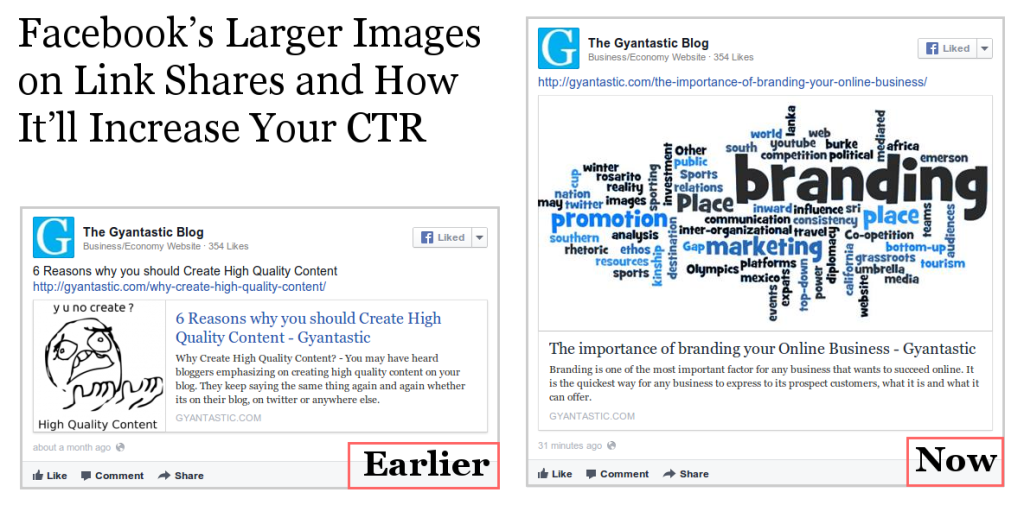 Facebook recently rolled out larger images on link shares. This means that for every link you share on Facebook now, you'll have much larger image showing up in the news feed.
Facebook's post about this new update:
We've just rolled out larger images on link shares. This will make your stories look even more beautiful on Facebook. The goal with this is to increase click-through rates on links as larger images are more engaging.
Not only larger images will look good, but it'll increase your click-through rates too (tweet this). That's something, every Facebook marketer would love to hear.
This is how a shared link on Facebook looked like earlier:
and this is how it looks now:
And the most important thing about the larger image on link shares is, when you click on the image it does not pops out the image like it does on usual image shares, but you are directly taken to the link shared.
This means that your link on occupies a lot of space in the news feed, increasing the chances of CTRs manifolds.
This is actually a continuation of a program Facebook announced in June whereby it was asked to simplify its ad product offering. In the program's infancy, marketers were able to have three different ad placements, including Page Post Like Sponsored Story, Page Post Comment Sponsored Story, and Page Post Ad. The company did away with all of those and consolidated it all into a new ad unit where social context would be overlaid on top of the image.
The new format affects Page post link ads, Page like ads, offer ads, and event ads. In addition, organic link shares will also be affected, meaning that if you post a URL to Facebook, you should have the ability to have a full-width image to help entice more click-throughs. (Source)
The recommended size of images that you should have on your website is now 1200 x 627 px; with the minimum size of 560 x 292p x to look good in shares.
So, what to do with this information?
There are two things that you should do now:
If you are planning to promote a link on Facebook, don't Like it (using the Like button) or directly post it as a status update on your page. Instead share it using the Facebook's share button.
Remove the Facebook Like button from your blog posts and put a Facebook Share button at the end of your posts (I'm going to do this asap). So now when someone share's your blog post, you'll have a bigger image of your post on their wall, increasing the chances of click-throughs back to your blog.
Found this post helpful? Then share this post (go ahead click it) with your friends to help them out with their Facebook marketing.