If you somehow stumbled upon to this post it is a part of post series WordPress 101 – Beginners Guide To WordPress. If you are new to WordPress this series will help you to speed up the process of understanding the basics, so that you can concentrate on the more important thing – blogging.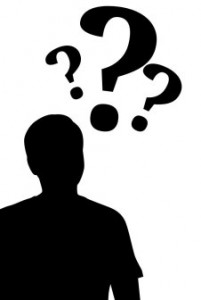 After setting up WordPress and adjusting basic setting of your site, an important task is waiting for you. It is the easiest task you'll ever do — publishing your very first post. In this article you're going to learn how to do that.
Publishing Your Very First Post
Lets do a quick walk-through on publishing your first post.
First, go to WordPress admin at http://yoursite.com/wp-admin/. You'll be asked for username and password information. You should already have saved those details on a piece of paper or on a Notepad document, so enter the information and log in. If you haven't saved it, do so quickly as you'll always need them.
After you log in, you'll see the main admin area or the dashboard with a lot of menus and options. Go ahead and click on "posts" on the left-hand side and then click on "Add new" from the drop-down menu under posts.
You'll now be taken to the post editing page. Add the title of your post on the first text-box. When you enter the title, a new line with a link shows up under the title. This link is the link to the page your new post is going to be on. For now just write anything like "Hey This Is My First Blog Post" or something like that.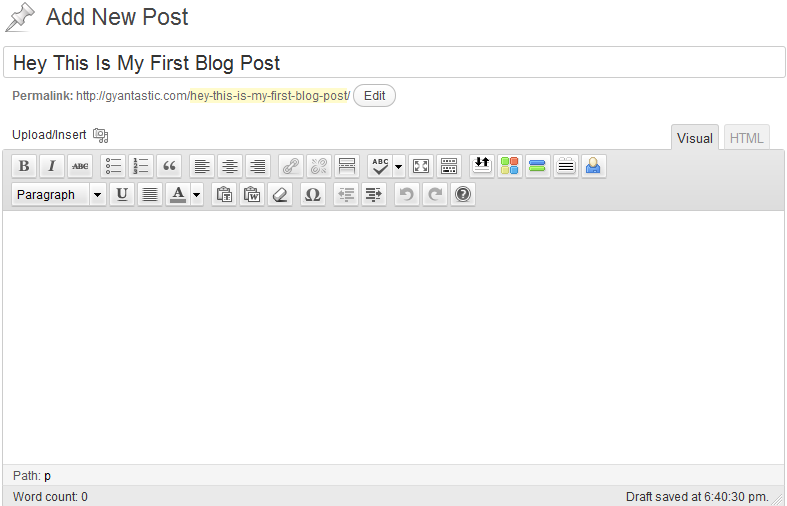 Next up, you'll find the second box where the main content of your post will go. On this panel, you can enter text and edit it by using the rich-text options. You can also enter links, video and other media by clicking on Upload link above the panel.
Once you finish inserting and editing your post, you can decide to send or not to send trackbacks, allow or disallow comments and change the author of the post on the sections below the writing panel.
The next step is going to be adding tags and categorizing your post. You'll find these options on the right-hand side. Tags are optional but they help people to easily find your content. For example, if you write a post about pets, you can increase the chances of people finding your post by adding tags like "pets", "dogs", "cats" etc.
Using categories, on the other hand, is very important as it is a way to organize your content based on topic. As your blog is new, it most probably has only one category named "Uncategorized". You can categorize your new post under this category or create a new one by clicking Add new category in the Categories box.
Time To Publish Your First Post On WordPress
Now it's about time your new post is ready for the world to see. Go to the "Publish" box at the top right-hand side and click on Preview to make sure you make no mistakes. If there are no mistakes in your writing, go ahead and click Publish. You may also delay publishing or save the post as draft for later publishing.
There you go! After a not so long and not so tedious work, you have now published your very first post. Click on the "View Post" link that comes at the top to view your post.
Grab a bottle of soft drink and celebrate the publishing of your very first post.
Other posts under the post series WordPress 101: