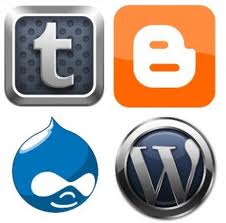 This post is from the post series Blogging 101 – The Only Guide You'll Need To Get Started With Blogging.

In order to be able to create a blog, you need to use a blogging platform or CMS (Content-Management-System) that lets you create, update and maintain your blog. There are a number of blogging CMSs abroad and each CMS has its own script that you need to upload and install on a server.
You can either buy server space and install a CMS script on there or just grab a free blog account that is ready to use with everything installed and set up.
In the following paragraphs, I will explain the pros and cons of using both types of blogging platforms so you can make an informed decision as to which one to choose.
Third-party hosted blogging platforms
You can find a lot of websites online that give you free blogging account. It doesn't mean that all of them are necessarily free, but most are.  Because of this and because they don't require you to register a domain name or buy hosting account, many people call them free blogging platforms.
When you register for your free blogging account, you'll get a sub-domain name and free server space. Here's a list of popular ones:
The biggest advantage of using these platforms is that no technical skills are required to set up a blog using them. You don't have to worry about installing scripts, taking security measures or updating software because that is done for you automatically. All you need is to enter your name and email address to register, select a theme for your blog, enter your title and you're good to go!
The downside is that you have limited ability to control your site's appearance or what features it will have. You can't touch or edit the core functionalists of your website. You can only work within the existing templates and if you don't like the features or your needs change, well… that's too bad.
All in all, if you want to build a long term business, you should never go the "free blog" route. Any of the free blogging providers can decide to remove your blog for any reason. And it does happen a lot; I have heard a lot of horror stories of people losing their top earning blogs overnight.
Self-hosted Blogging platforms
If you want to self-host your site, you need to buy hosting and a domain name. Then you will connect your hosting and domain name with a DNS (Domain Name System.) You will then need to install a blogging CMS script on your server to start creating your blog. Here are some of the most popular ones:
The biggest advantage of self hosting is that it allows you a more professional, unique and brand-able domain name. Also, it allows you to create your own unique design, choose from a variety of customizable themes for your site, and with additional plugins you can add features and functionalities based on your needs.
Self-hosting does have it disadvantages, too. You have to maintain and update your site, update your software and it costs money. However your costs are usually very minimal and you only have to pay for the domain and hosting expenses. If you are running your blog as a business, the expense and the small work involved should be looked at as investments plus you can always outsource it.
For my blog, I use WordPress. It is easy to use, there are a thousands of themes, plugins, and —best of all—it is free. I have used it to set up almost all of my websites without any problem. If you are new to WordPress, I have written a post series dealing with the basics of WordPress. I hope you'll find it helpful.
Tip: you should be careful where you host your WordPress websites. Choose a hosting service that is suitable for them. My favorite is Bluehost. It is WordPress friendly and it has many features including "Magneto" which enables one-click WordPress install.
Other posts from Blogging 101 series:
Remember, only you know what will truly work for you. Make sure you take your time and make the best decision for you and your blog. Your readers will thank you for it.