Displaying data and information is almost always a necessity. Whether you have a financial consulting firm, a sports-tracking data system, or even if you want to break down information for visitors to your site in a new way, tables can be an effective way of showing different information. Here are 5 best WordPress table plugins that'll help you make unique and interesting tables to display on your site.
Best WordPress Table Plugins
Easy Table

Easy Table prides itself on its easiness. You don't need to know how to write HTML syntax or know complicated coding. It is made so that you can type table data right into the post as you are preparing your post. You can read data from CSV file and display data in the table. There is also a table colum sorter (using jQuery plugin).
You can make more elaborate designs through Twitter CSS bootstrap but it's not necessary if you don't desire. The limitations of the plugin is mainly that enclosure does not work on the first cell of a row and Chinese characters are often stripped down on the first cell of a row. Finally, you cannot create nested tables.
Data Tables Generator by Supsystic 
This plugin helps in developing data tables artistically with charts and graphs. The best thing about it is that there is no requirement of HTML knowledge. It is very convenient for one as there is no need of coding. There are features which support the font of table elements like bold or Italic.
The style and color of the sheet can be altered by the user as well. The customisation of the data tables makes it more appealing to the users due to various diagrams and more due to the SEO friendliness. This plugin was launched in 2015 and is pretty easy and fast for creating new tables.
League Table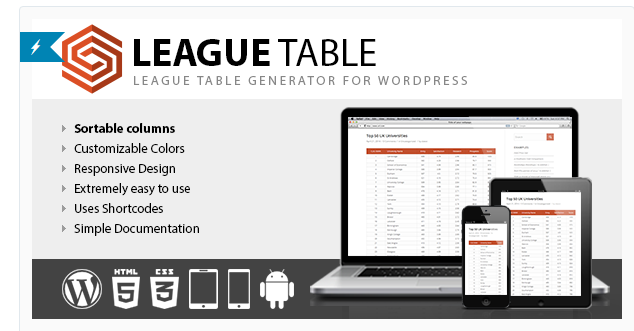 With this plugin you can create tables in posts, pages, custom posts, and widget areas. It's responsive and looks readable and comprehensible on any device. Called League Table it's very adaptable to tables that report sports – standings, ranking charts, ladders, leaderboards, etc. However, it can be adapted to show other things like nations and companies and rank them in achievement.
You can sort the league tables with multiple columns and customize the colors of the header borders, fonts, and backgrounds, as well with the rows and columns. The plugin is easy to use – you don't need to understand how tables work in terms of html and CSS as an editor is available in the tables menu.
ACF Table Editor Field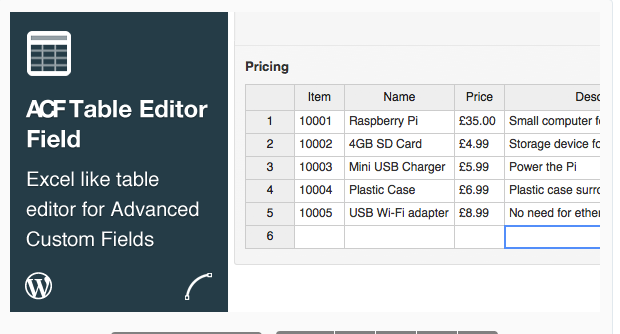 ACF Table Editor Field is not the trendiest looking plugin on the market, but it does allow you to create excel-like tables for admin users to edit and input data. You have total control of the table columns and header names as well as the table witdth in the metaboxes.
It's very easy to edit all-aspects of the table – the deletion of rows and columns, undoing and redoing data, etc. There is drag down ability to copy cells. If desired, the data can be rendered as an HTML table on the frontend of the site. The plugin requires the free plugin, Advanced Custom Fields, to function. $13
Go – Pricing Tables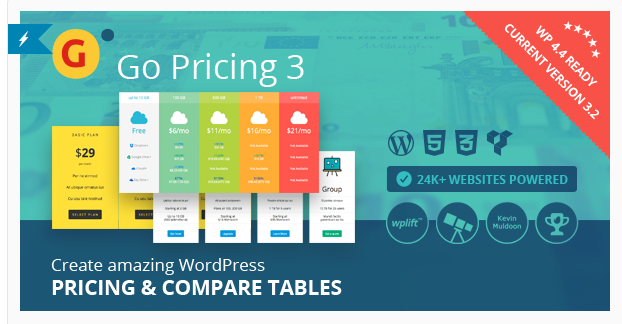 Go is a plugin focused on creating traditional pricing tables, however other options are available. Aside from standard pricing table styles, videos and images are supported with optional responsiveness. You can create tables quickly and integrate them into the site through the Admin Panel.
Aside from pricing tables you can create team viewer and compare tables. They are found in the package and there are over 600 Google fonts for customization. There are unlimited colors and over 90 starter templates to create any number of tables for your site. Drag and drop allows you to use any of the 5 shadow types, 32 ribbons, 36 custom icons, and 3 different sizes of buttons and icons to customize your tables. There is no limit to the amount your site can have.
These are the 5 best WordPress table plugins to create HTML tables on your WordPress enabled websites.